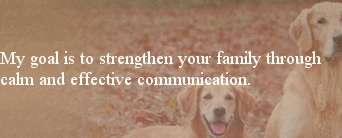 I am a dog training professional based in the Ozarks.  In Springfield, MO I offer Basic and Advanced Obedience Classes  at three PetsWay locations: 1717 W Kearney St (417)831-7386, 1517 W. Battlefield Rd (417)882-7387, and 2838 S. Glenstone Ave (417)720-4656.  I also hold classes in Cassville at the animal rescue Haven of the Ozarks.  I also offer private sessions for people that have specific issues or are unable to commit to a seven week training course.  These private sessions can be held anywhere; your home, parks, or pet store.  Whatever problem behaviors you need addressing I can help.

I obviously teach techniques to deal with individual behaviors, but more importantly I focus on how we communicate with our dogs.  The majority of the issues that people have with their pets arise from a lack of communication.  Dogs are a physical animal and people are a verbal creature.  When people are frustrated, angry, embarrassed, excited, or any other emotion we become more verbal often ending in shouting.  At this point communication breaks down and the desired results can not be achieved.  However, by teaching how to communicate appropriately with our bodies and taking control of everything that our dogs desire (treats, food, affection, walks, toys, boundaries, etc.,) then we can gain their undivided attention. 

Please explore this site to learn more. Call or email me to learn more about how to strengthen your bond with your pet. Thank you for visiting us.