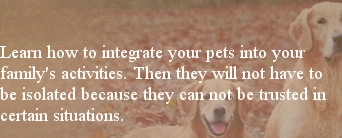 I have been working as a dog trainer since 2003.  In 2006 I began T's Dogs.  I am a member of the International Association of Canine Professionals (IACP), 
www.dogpro.org.
  I have been trained in and only use positive reinforcement techniques.  I focus on the leadership we provide our pets and how we communicate with them.  The techniques I employ strengthen the bond between owner and pet making them a team that works together.
Whether you are needing help potty training a young puppy, basic/advanced obedience classes, or addressing problem behaviors that have been on going for years (such as aggression or separation anxiety), I can help.   In certain situations I can take pets into my family home for intensive training for $25.00 a day.  Your pet will have other dogs and children to play with and get daily exercise while learning the same house rules as my pack.

I have also written two training manuals; Crate Training Made Easy: Creating a Mutually Happy Home for Dogs and Dog Lovers (2008), and Bringing Home Puppy: Introducing the Newest Member of Your Family Successfully (2009).  Please contact me for your copy at $5.00 each plus shipping.  My pack includes my wife, three children, and my six pups.